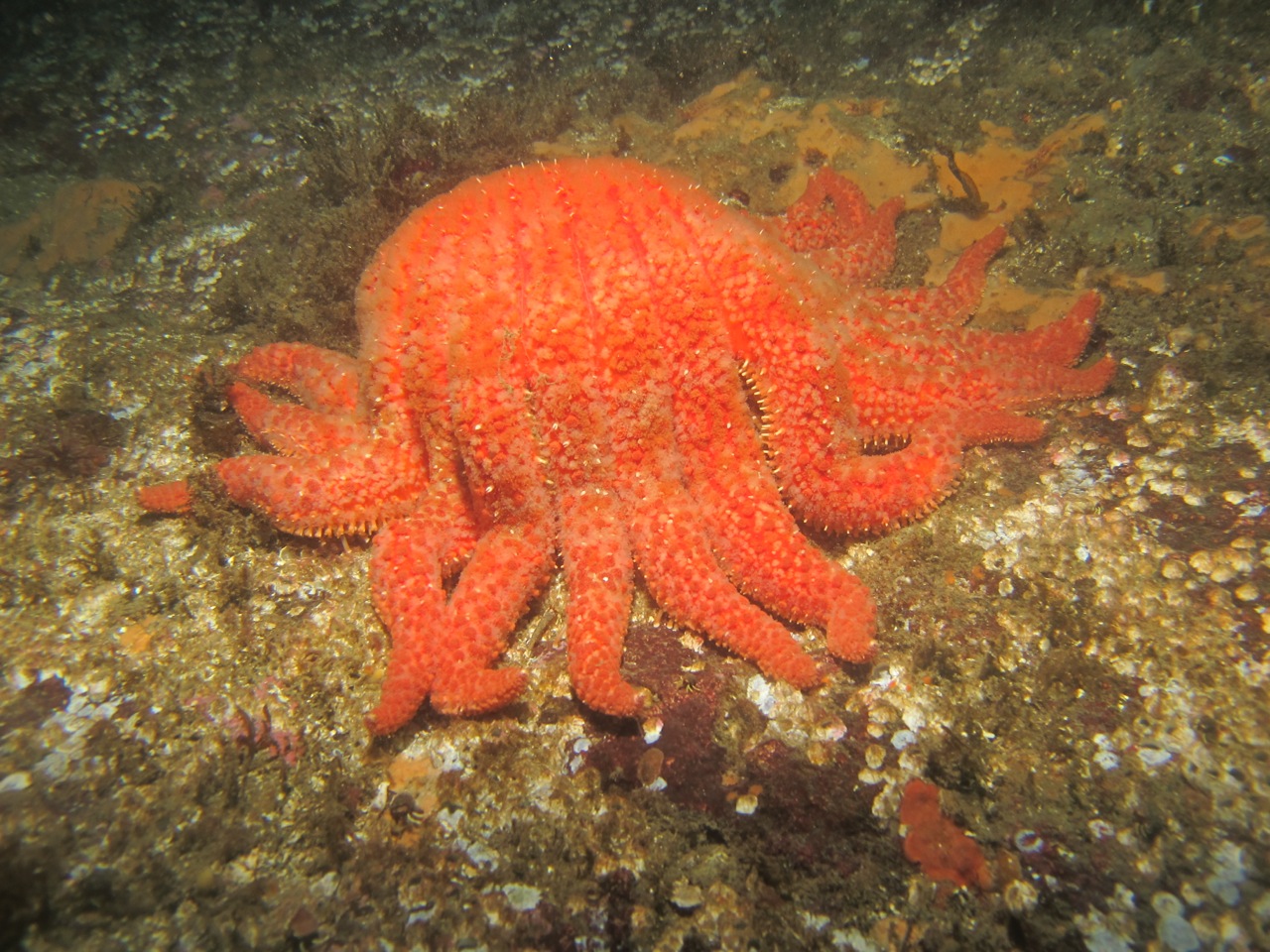 Sea stars in various parts of the Salish Sea are experiencing a mass-mortality event. We're not sure of the cause, but we're working on it. (So are many other groups in the area.)
In October we looked for healthy and diseased sea stars during our dives for our new subtidal survey project. (See what else we found on those dives here.) During early November, we returned to two of the REEF monitoring sites from October where we saw the highest density of sea stars to see if sea star wasting disease has shown up since were were there last month. Fortunately we saw numerous sea stars and numerous species of sea stars and they all looked healthy. We will continue dives this weekend to look for more signs of disease.
Photos of diseased sea stars
Seastar expert Neil McDaniel, (www.seastarsofthepacificnorthwest.info) has graciously shared his photos showing the progression of the disease over a short period of a few weeks. This can give you an idea of what you're looking for. The before-and-after photos are pretty shocking. View the photos at Janna Nichols' SCUBA photo page.
Report sick and healthy sea stars
If you're a diver or a beach-walker and you see sea stars (healthy or diseased), report them at the Vancouver Aquarium's Sea Star Wasting Syndrome web page.
That page at the Vancouver Aquarium's website also has an overview of the outbreak.
Also see these media articles:
http://kuow.org/post/mass-starfish-die-may-be-headed-washington
http://www.king5.com/news/environment/Biologists-search-for-cause-of-sea-star-deaths-229408861.html
Vancouver Sun: scientists narrow in on the wasting disease (May 2014)
Video:
The Vancouver Aquarium made a time-lapse video of a sea star disintegrating. Watch it here: http://youtu.be/mjrp3Eckr-E
Audio:
Seattle Aquarium veterinarian Lesanna Lahner was interviewed on Science Friday on NPR on December 5, 2014.
Other items:
The Northwest Indian Fisheries Commission posted a blog entry about how the Puyallup Tribe is tracking sea star wastage in the South Sound.
Scientist Drew Harvell and diver Laura James wrote a blog post for the Nature Conservancy about the outbreak. In it, Harvell, who is one of the scientists doing genetic research on possible disease vectors, makes the case for better funding of scientific investigations of disease in the ocean.
Page updated on December 10, 2014